This week on Twitter, we were discussing the issue of who's responsible for paying for the bridesmaid dresses, and this is how the conversation went:
@abrideabudget A3: Let ur bridesmaids choose their dress & they'll gladly pay. I did this & it was great! #BridalBabble — wedOcracy (@wedocracy) May 28, 2014
I let my bridesmaids choose their dresses, and it was one of the best wedding planning choices I made.
Why?
Have you ever planned a party and felt so stressed out only to realize that you have a great group of friends who would drop anything to help you if you only let them?
Well, that's what a stress free and fun wedding planning experience should look like, but so many people feel overwhelmed and unprepared for the journey. It doesn't have to be that way. And, when it comes to asking your closest friends to be there to support you by being part of your wedding party, you can lower your stress and have fun with them by actually letting them choose their own dress.
 Here's how to do it in a way that's fun and easy:
1. Pick a color and let the rest go
I love pomegranate red.
It's always been a favorite color of mine, so when it came to planning the wedding, I did know that I wanted my bridesmaids to wear this color.  While the color of the dress was important, the style was not. As long as they found something in that color that they would be comfortable dancing down the aisle with, then I was game (BTW that's not my wedding photo below – we are in the top photo).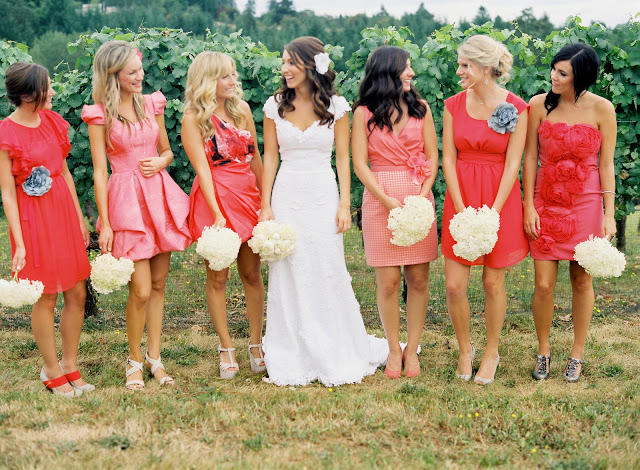 2. Pick a style, and change up the colors
As long as you have a theme running through, the rest can be very simple. Do you want everyone to wear strapless dresses? Great! Send out a message to your bridesmaids with a "general idea" of the style, and ask them to match it. As long as they fit the style, let them know it's okay to buy what they want to buy.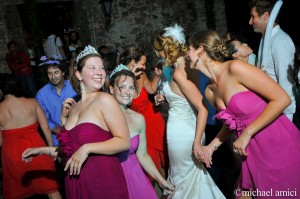 It's great for your financial and emotional well being
On Twitter, we had a conversation about who should pay for the dress. I strongly believe it really depends on the couple, and no one should feel pressured to do something just because of tradition.
 Here's why it works so well to do this:
1. Letting your bridesmaids choose their own dresses reduces your stress
You can spend your time thinking about something else, while giving them an excuse to find themselves a new dress that they actually want to wear. Guess what? Everybody wins!
Remember when you were growing up and your mom decided your cool new style didn't match what she wanted you to wear. Well, my mom did this and I was so upset with her about it. She wanted me to dress more preppy and less stylish and I didn't like it one bit. Granted I was a kid and she was paying for the clothes, but at 15, I really wanted to define my own style and personality through my clothing.
So, why not let your bridesmaids do the same?
2. Letting your bridesmaids choose their own dresses allows your closest friends to help you plan
Who doesn't want the chance to buy a new dress? We all love new clothes, especially if we feel we can wear them again and again. When you let your bridesmaids choose, they'll want to pay. Think about it this way! If they have to pay for it, and hate it so much because it's more of your style of less of theirs, then they won't want to buy it because they won't use it again.  And, if you let them choose it, they'll most likely be helping you figure out the attire for your end of the wedding party. You already have your own wedding dress fitting to worry about. Why make that several fittings to worry about?
When it doubt, make things simple.
3. Letting your bridesmaids choose their own dresses allows them to show their style
If you let them choose their bridesmaid dresses, they'll gladly find something that complements their style.
If you don't like ruffles, why wear them for 10 plus hours, and why should they (unless they LOVE to)?? What could be so bad? It's okay to set parameters to help. Why not tell them they need to find a long dress, or a short dress, or a strapless dress. And ask them to send you pics. My girlfriends did, and it became fun we shared – not a battle for control. If one of them perpetrates a fashion crime, you aren't the one who chose their outfit, they are, so they can't be mad at anybody but themselves. You have more important things to be concerned about – like the fact that you are marrying somebody.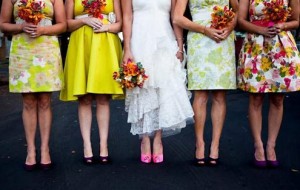 Choose a theme and ask your bridemaids to find a dress to match! Image Source
4. Allowing your bridesmaids to pick their dresses shows them you value their input

It is your wedding, but it's also their wedding involvement and you asked them to be a part of it because you value them. They care about you or they wouldn't have said yes to being part of it.
Don't spend too much time worrying about matching dresses and instead spend more time showing them you value their input and friendship. They will reciprocate whatever you put out.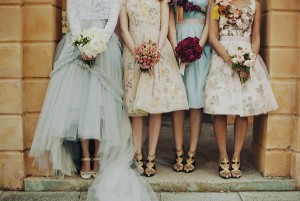 Letting your bridemaids choose their dress lets them show their style! Image Source
5. Allowing them to choose their own dress helps you save money
Are you concerned about your wedding budget?  I was, since we were paying for half of it. I let my bridesmaids choose their own dresses (and buy them at a store of their choosing) and they were happy to pay for their dresses.
The thing is, if they get to choose it they're more likely to look for something that fits their style and is within their own budget.  I know there are traditions that say the bride should pay, but we believe the modern couple makes their own traditions.
6. Allowing them to choose their dresses shows them you want to strengthen your relationship instead of watch it fall apart
We've all heard of the crazy bride who demands so much from her bridesmaids.  Guess what? They are celebrating this big milestone with you. Let them be a part of it in a way that's fun and exciting.